The problems we are tackling
exploitation of human resources
According to the Ethical Trading Initiative, 71% of fashion companies indicate there is a 'likelihood of modern slavery occurring at some stage of their supply chain.
water 
Textile production causes water pollution and consumption. The Dyeing process poisons the water resources and the textile production is highly water-intensive. A kilo of cotton has a water footprint of 10.000 – 20.000 litres.
(2017 Wrap report)
earth
Each year, 12.8 million tons of clothing is dumped into landfills and  92 million tons of textile waste is created (= 12.3 kg per person).  (ShareCloth)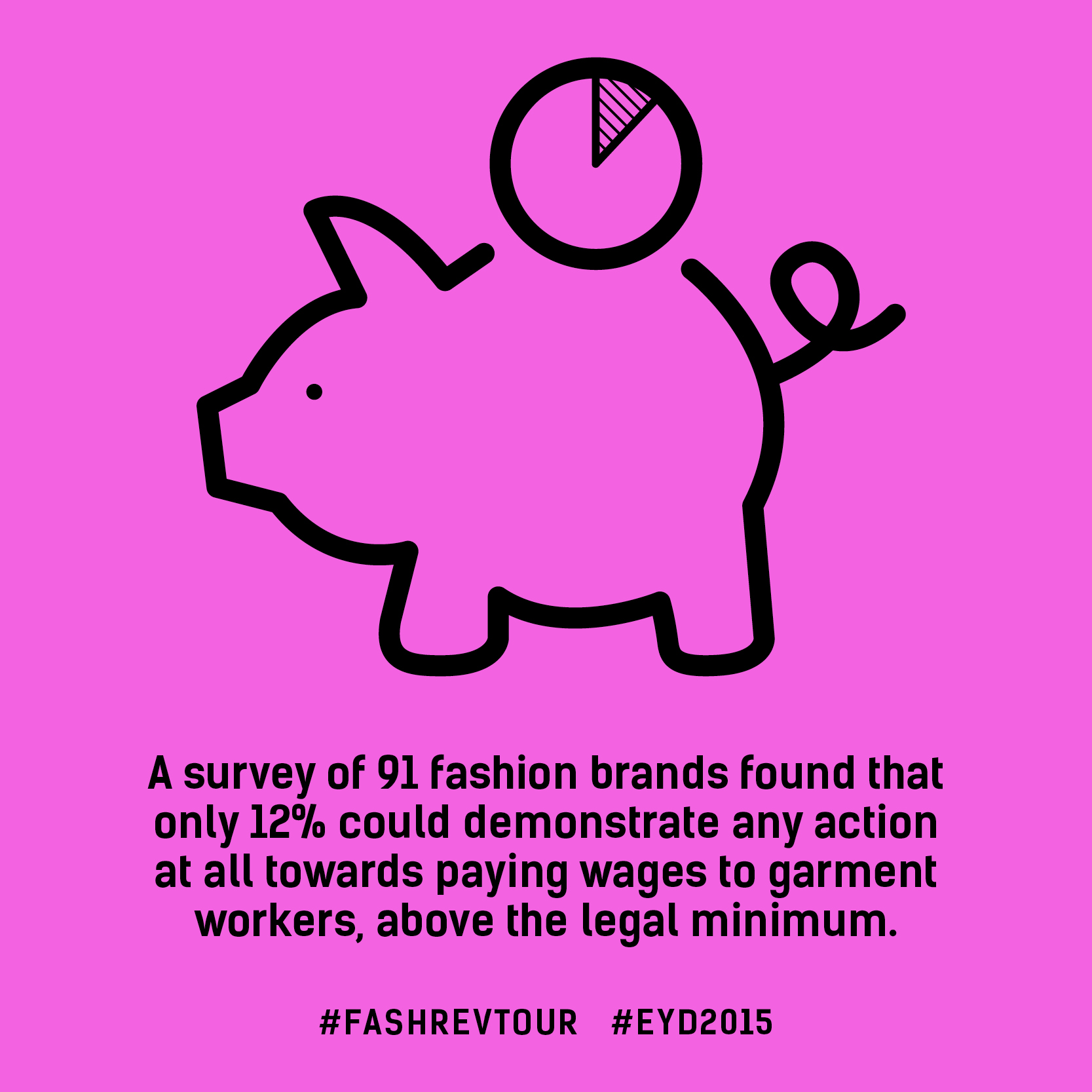 lack of action
A survey of 219 fashion brands found that only 12% could demonstrate any action at all towards paying wages to garment workers, above the legal minimum 
(Baptist World Aid)
We are living in a climate emergency and the fashion & textiles sector is one of the most polluting and wasteful industries. The industry continues to lack transparency, with widespread exploitation of people working in the supply chain. Never before have there been this many people on the planet in slavery, and fashion is a key driver of this reality. Brands and retailers are still not taking enough responsibility for the pay and working conditions in their factories, the environmental impacts of the materials they use or how the products they make affect the health of people, animals and our living planet.
75 million people work directly in the fashion and textiles industry, about 80% of them are women. Many are subject to exploitation, verbal and physical abuse, working in unsafe conditions, with very little pay. There are 25mil people working today as modern slaves, 1 out of 4 are children, the average age of enslavement is 12 years old. Fashion is the second industry in modern slavery.
The environmental and social cost of the clothing and textile industry has increased dramatically in recent years and is expected to continue this linear course in the future. Clothing production follows numerous stages before reaching the stores (cotton crops, farming, spinning of yarn, dyeing of fabrics, sewing, packaging, forwarding, air emissions from various stages of the supply chain, end user). The true environmental and social cost is high. Still, certain brands now sell their clothes for as little as a cup of coffee.
Our clothes are made from materials and processes that require the extraction of natural, non-renewable resources and produce considerable negative environmental impacts. Polyester represents around 60% of global fibre production, is a common plastic and is made of crude oil. When we wash clothes made from synthetic fibres like polyester, they shed thousands of microplastics into our waterways, potentially harming human health and biodiversity. Clothes and textiles are the No1 source of primary microplastic to the oceans accounting for 34,8% of the global total. At a global level, clothing and footwear account for 10% on the world's greenhouse gas emissions (GHG) annually and for 20% of global wastewater. Fashion emits more Greenhouse gases than international flights and maritime combined.
Global fashion consumption continues to gain speed at unsustainable levels and relies on a culture of disposability. Around the world, we produce too much clothing, from unsustainable materials, much of which ends up incinerated or in landfill. In order to combat the climate crisis and protect precious natural resources, we must rethink consumption-as-usual. We must rethink the entire system, moving from a model built on overconsumption and disposability to one that is circular, where materials and products can be used for much longer. We must embrace new ways of enjoying clothes such as sharing and swapping. We consume 60% more than we did 14 years ago and we keep them half of the time we did. 40% of our clothes are never worn. Every second, one truck full of textiles is landfilled or incinerated. Garment sales are moving inversely with garment utilization, yet the fashion industry generates $2.4 trillion every year. 
The fashion industry is the second largest polluter in the world after the oil industry. 
According to the Ethical Trading Initiative, 71% of fashion companies indicate there is a 'likelihood of modern slavery occurring at some stage of their supply chain. This is a $30 billion industry, fueled by a lack of transparency in unregulated production and illegal work practices. Slavery in the fashion world can appear in a variety of forms from harvesting the cotton for a t-shirt, spinning the fiber to yarn, sewing the garment, and modeling the final product. The difference between slavery and extremely exploitative labor can be vague and the fashion industry walks this fine line.
Greek textile industry
The Greek Textile Industry presented important rhythms of growth in the past decades.
In the 60' and 70's period, Greek textile Industry maintained a powerful place in the domestic industry.
Since 2008 (European and Global Economic Crisis), Greek Textile Industry entered in a period of recession, with important reduction of domestic production and investment activities, so that it is led to shrinkage and a lot of textile manufacturing units suspend completely their work.
Source: Global Slavery Index 2019
Refugees and Survivors
The refugee crisis and human trafficking are intimately linked.
Source: Global Slavery Index 2018; OCSE, 2019
Financial crisis and Unemployment
The global financial crisis of the last years has increased the need of Europe to find solutions for poverty alleviation and unemployment
Theory of Change
SOFFA cares about people!
SOFFA is an eco-sustainable and circular fashion manufacturing studio that provides work integration to women survivors victims of human trafficking – SGBV (Sex Gender Based Violence) and refugees through vocational training in circular fashion principles and zero waste processes  with recycled, natural, vegan and plant-based textiles that support environmental regeneration. Our aim is to provide our beneficiaries with work integration into the sustainable fashion field.
SOFFA supports the local ecosystem of textile, clothing and footwear, unemployed Greeks, and local designers through a holistic approach that creates value for everyone involved.
Our environmental impact
SOFFA cares about the environment! 
Textiles
We use recycled,  natural, vegan, and plant-based textiles. 
We prefer to work with local small businesses, where fabrics are weaved and processed locally and ethically with no chemicals in dying. 
The printing is ecological, made through traditional handcrafted techniques from natural manmade colors, printed by refugees working and training at the silk screening workshop of the social cooperative ANKAA Project's premises. 
The embroidery is done in our studio, by our beneficiaries, women survivor victims of human trafficking.
Should our clients require the use of cotton, we choose to purchase only Greek Clean Cotton, weaved and processed locally.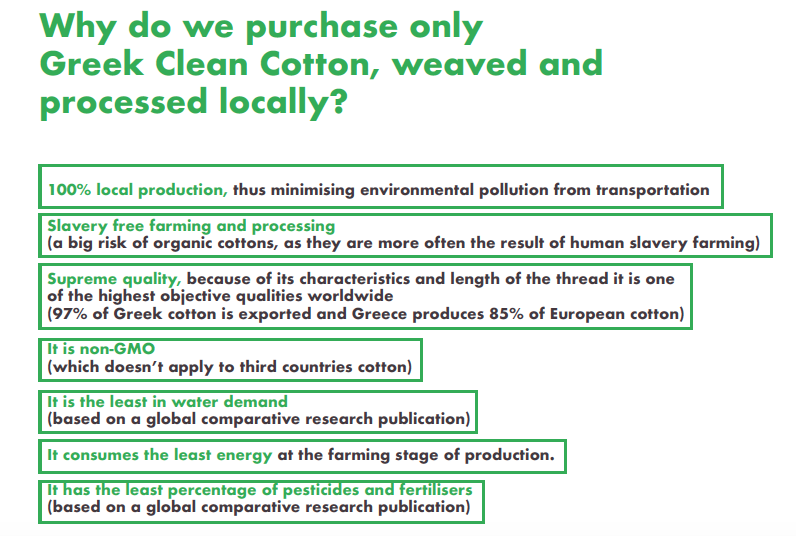 Zero Waste
We implement zero-waste manufacturing processes. We work on order-based rather than bulk productions, to avoid creating stock.
We upcycle all its waste, turning it into clothes and accessories like shopping bags, backpacks and wallets. It also collects industrial waste and household clothing waste.
SOFFA's environmental impact in numbers:
300 kilos recycled textiles and clothes from landfill.
thousands of meters of donated fabric stock and waste from textile production 

50 business partners Income created for 50 local economy slavery-free and sustainable suppliers and service providers.
UN Sustainable Development Goals
SOFFA targets the realisation of United Nations Sustainable Development Goals #5, #8, #9, #12 #13
SDG number 5 – Gender Equality
"Achieve gender equality and empower all women and girls."
According to the UN, "gender equality is not only a fundamental human right, but a necessary foundation for a peaceful, prosperous and sustainable world." Providing women and girls with equal access to education, health care, decent work, and representation in political and economic decision-making processes will nurture sustainable economies and benefit societies and humanity at large.
SDG number 8 – Decent Work and Economic Growth
"Promote sustained, inclusive and sustainable economic growth, full and productive employment and decent work for all"
 Achieving higher productivity will require diversification and upgraded technology along with innovation, entrepreneurship, and the growth of small- and medium-sized enterprises (SMEs). The target for 2020 is to reduce youth unemployment and operationalize a global strategy for youth employment.
SDG number 9 –  Industry, Innovation, and Infrastructure
"Build resilient infrastructure, promote inclusive and sustainable industrialization, and foster innovation."
Manufacturing is a major source of employment. Investment in infrastructure and innovation are crucial drivers of economic growth and development. Technological progress is also key to finding lasting solutions to both economic and environmental challenges, such as providing new jobs and promoting energy efficiency. Promoting sustainable industries, and investing in scientific research and innovation, are all important ways to facilitate sustainable development
SDG number 12 – Responsible Consumption and Production
"Ensure sustainable consumption and production patterns."
The targets of Goal 12 include using eco-friendly production methods and reducing the amount of waste. By 2030, national recycling rates should increase, as measured in tons of material recycled. Further, companies should adopt sustainable practices and publish sustainability reports.
SDG number 13 –  Climate action
"Take urgent action to combat climate change and its impacts by regulating emissions and promoting developments in renewable energy."
In May 2015, a report concluded that only a very ambitious climate deal in Paris in 2015 could enable countries to reach the sustainable development goals and targets.[69] The report also states that tackling climate change will only be possible if the SDGs are met. Further, economic development and climate change are inextricably linked, particularly around poverty, gender equality, and energy. The UN encourages the public sector to take initiative in this effort to minimize negative impacts on the environment.